Note: this book was republished in e-book format in May 2011.
When 16-year-old Emily's family uproots her from Seattle to England right before her junior year, she has to adjust to a whole new lingo, new friends, and worst of all, no malls. Luckily hunkalicious British boys do exist!
Subject: The Grotty and the Fabu (No, it's not a song.)
From: Mrs.Oded@btelecom.co.uk
To: Dru@seattlegrrl.com
Things That Really Irk My Pickle About Living in England
The school uniform
Piddlington-on-the-weld (I will forever be known as Emily from Piddlesville.)
Marmite (It's yeast sludge! GACK!)
The ghost in my underwear drawer (Spectral hands fondling my bras — enough said!)
No malls! What are these people thinking???
Things That Keep Me From Flying Home to Seattle for Good Coffee
Aidan (Hunkalicious!)
Devon (Droolworthy? Understatement of the year!)
Fang (He puts the num in nummy!)
Holly (Any girl who hunts movie stars with me—and Oded Fehr will be mine—is a friend for life.)
Ăśber-coolio Polo Club (Where the snogging is FINE!)
Other Editions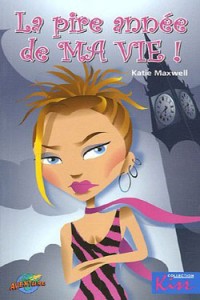 LA PIRE ANNÉE DE MA VIE!
French Paperback
Presses aventure (May 17, 2005)
Collection : Kiss
ISBN-10: 2895432546
ISBN-13: 978-2895432548
Commandez
Subject: Why You Love My Coolio E-Mails
From: Mrs.Oded@btelecom.co.uk
To: Dru@seattlegrrl.com
I tell you everything about my hunkalicious boyfriend, right down to the kissing, and I just bet you no one else tells you about what it feels like to kiss a hottalicious guy with a ĂĽber-fabu mustache.
My firm grasp on the very latest English slang, words like "chuff" (say it wrong and it could mean fart) and "fwoar" (I have no idea what it means, but it sounds very cool, don't you think?).
I have naturally good taste, so you can trust me when I tell you just how pervo are the skirts they make us wear for field hockey—and we're talking majorly pervo, here.
Did I mention kissing a hottie with a mustache?
You feel much better about your family because you don't have a father called Brother, a mother who is keen to give you sex talks, or a sister who tries to drag you to every weirdo radical protest she can find.
Who else do you know who lives in a creepy house and sleeps in a tower room with its own ghost?
Detailed, in-depth analyses, biographies, and descriptions of snogworthy English guys who are on my Potential Boyfriend List.
My insightful and totally fabulous advice on your own love life. (Get over vance the weasel, babe!)
KISSING, KISSING, KISSING! 'Nuff said, right? Right. I knew that would convince you.
Hugs and kisses,
~Em
Subject: I'm here safely in hell, thank you
From: Mrs.Oded@btelecom.co.uk
To: Dru@seattlegrrl.com
Date: 2 September 2003 6:13pm
GAH! My room is haunted! And not just haunted by any old run-of-the-mill ghost, —oh, no, my ghost is an underwear pervert!
Dru, Dru, dear, sweet Dru, I can't begin to tell you just how awful my life is. Well, OK, I can, and since I'm having to suffer, you, as my numero uno best friend, are going to have to suffer with me. Even though you're half-way around the world from me, you'll still suffer with me, won't you? 'Cause I'd do it for you. You know I would. I always get sympathy cramps for you, don't I?
Where should I start in the catalog of horror that is now my life? Well, first of all, don't be surprised if you get a letter from Brother or my mom saying I died (my obituary will read: Emily Williams, sixteen but looks eighteen, died Tuesday night of a broken heart after being torn from her friends and home in a mondo cool area of Seattle—conveniently located to both malls and water parks—and dragged all the way to England, a country so backwards itthat STILL HAS DISCOS!). This place is awful…well, I don't want to say it's awful, because there're castles and cool stuff like that, and the guys sound really sexy with their English accents, but gah! Everything is so friggin' old! It's "Oh, look at that, Emily, that building is five hundred years old" this, and, "That piece of Stonehenge has been standing in that spot for fifty gazillion years," that.
Well, duh! It's a rock! It's not like it's going to sprout legs, buy a thong, and go to Tahiti for a windsurfing vacation, now, is it?
That was Brother who said the bit about the rock, BTW (the first bit, not the thong part). You know him—the man lives for old stuff like that. Needless to say he's in seventh heaven here in Ye Olde Englande. So, anyway, I survived the two days of sightseeingmove. (lLittle tip from me to you: if your parents suggest moving you away from your rightful home to live in another country for a year, making you give up everything that's important, do not, under any circumstances, agree to go sightseeing with them. Especially if your dad is a medieval scholar like Brother, 'cause I'm here to tell you that you'll end up looking at nothing but stupid old rocks and buildings that should be plowed under to make room for more malls)…. You wouldn't believe this, but I've been here two whole days, and all we've seen are libraries!
"Can't we go see Windsor Castle?" I asked, thinking that Prince William guy might be hanging around there.
"Maybe another day. Brother wants to see a very old illuminated manuscript," Mom said. "It's very important to his research to see it in person."
"How about the dungeon museum? I heard there's one in London. That's not only very cool, it's historical, too. Bet there's medieval stuff there."
"Another time, Em," Brother said, and went off about how wonderful the library was that we were going to. I tell you, Dru, I was going crazy being trapped in the car with them, goingtravelling from library to library having to look at a bunch of moldy old books.
Anyhoodles, where was I? Oh, yeah, so I survived the sightseeing (if I ever see another illuminated manuscript, I may just ralph), and Brother's driving on the wrong side of everything, and yesterday we arrived here at Chez Williams AKA The the Haunted Mansion.
"What's wrong, Brother?" I asked when he pulled up before a creepy, old, creepy, dirty, and did I say creepy? house that would have beenlooked like it should have been condemned. if it was back home. "Are we lost? Out of gas? Did the engine fall out?"
"Nope," that theat horrible man who spawned me answered in a cheerful I can't wait to see this antiquity sort of way that for the last two days had made the flesh on my back crawl. "This is our home away from home for the next year. Isn't it charming?"
Charming? The Amityville Horror looked more welcoming than the monstrosity that slouched at the end of the drive. Honest to Pete, Dru, it positively reeked of old!
"I am so not doing this," I said, taking a stand.
"It certainly is different than anything we have at home," Mom said, ignoring my stand-taking in that mom sort of way older women have. [The score so far—Emily: 0, Parental Units: 2.] "When did Professor Carlston say it was built?"
"In 1588, by Dracula, no doubt," I answered, taking a firm grip on my pursegripping my purse firmly. If anything creepy even thought about grabbing me, I'd nail it upside the head with twenty-two pounds of make-upmakeup.
"Now, Emily, you know that Vlad the Impaler was born in 1421. It would have been impossible for him to build this house in 1588," Brother said. "Ten points if you can tell me during what empire Vlad ruled Wallacia."
I am warning you right here and now, Dru—if your father gives you even the slightest reason to think he'll ever become a scholar, kill him. I know that seems harsh, but honestly, the historical pop quizzes alone are grounds for divorcing him as a parent. You'll thank me later.
"Can we skip the pop quizzes and get right down to the exorcism?" I asked as The Parents hustled me toward the house. It's huge, I mean really huge, and old, and black and moldy-looking, with all sorts of windows that poke out and glare down on you. "Do either of you have any holy water?"
"It certainly does have atmosphere," Mom said.
"How about a spare crucifix or two?""Emily—" Brother said warninglyBrother eyed me. "She didn't get that smart mouth from my side of the family."
Mom smiled and patted him on the arm. "It's a defense mechanism, dear. Girls Emily's age feel it's vital to appear flip on the outside even though they're riddled with insecurities on the inside."
I hate it when Mom does that! Not calls me flip (that's just Old Speak for coolio), but when she says stuff that shows she really understands what's going on in my head. It's unnerving! I mean, if she knows that I'm really worried sick about leaving you and all my friends, and having to make new ones here (and you know how hard it is to make friends), not to mention the trauma of having to go to school in a foreign country, she'll know that the uber-coolio Emily is really a fake, and that I'm not the really hip chick everyone thinks I am.Well, at least I hope they think I am. I've always said that if you act like you're really cool, everyone will believe you are, even if it's not true. And I have to say, it's a lot of work making everyone think you're cool when really you just want someone to hug you.
Don't tell anyone I said that part about being hugged, K? I wouldn't want anyone to know. .
"Emily…" Brother said warningly. HeBrotherHe did something to the front door and it squeaked open. Inside was a whole lot of black. I swear you could hear the bats rubbing their little batty paws together and cackling at the fresh dinner walking in.
"A Bible? A What Would Jesus Do sticker?"
"Not now, Em," Mom said, pulling me in to the abyss. The door slammed shut behind us.
"Abandon hope, all ye who enter here`."
Brother eyed me. "She didn't get that smart mouth from my side of the family."
Mom smiled and patted him on the arm. "It's a defense mechanism, dear. Girls Emily's age feel it's vital to appear flip on the outside even though they're riddled with insecurities on the inside."
Gah! Mothers!!!
"Are you sure she's mine?" Brother asked Mom in what passes for Old- People humor. "Is it too late for a paternity test?"
I'll save you from the horrors of the grand tour, as the Sperm Donor called it. Let me just say that the house is one big creepfest. If there aren't hockey-mask-wearing, homicidal, deranged axe murderers living in the basement, you can paint my toenails and call me Sally. And you know I hate the name Sally.
Must go. Brother just bellowed upstairs that dinner is on, and it'll probably take me at least a week to find my way down to the ground floor (that's first floor to you and the rest of the civilized world). I'll tell you about the underwear ghost later. Oh, yeah, note my English e-mail addy. Oh! Oh! Oh! I picked up a magazine at the airport that said Oded was in England filming a new movie—can you believe that Brother had no idea who he was?
"He's only the star of The Mummy and The Mummy Returns, two of the hottest movies ever made in the whole history of the universe!" I told him, then made him look at my Oded scrapbooks (the one with the pictures from both Mummy movies, not the ones with the pictures of Oded on the TV shows). Brother pretended to stagger away after he sat through the three Mummy scrapbooks, which was just so funny I forgot to laugh. Sheesh! He makes me look at old books for two whole days, then squawks about a little Oded-viewing?
Oh, get this, you're going to die—the studio that Oded will be working at is only ten miles away! Eat your heart out, you poor Oded-less thing, you. Bet I marry him before you do!
Hugs and kisses,
~Em
P.S. How's the leg? What happened to your Sim Zombie family? Did Morticia Zombie marry Ted Townie? YOU HAVE TO TELL ME!!!
Subject: Re: the panty ghost
From: Mrs.Oded@btelecom.co.uk
To: Dru@seattlegrrl.com
Date: 2 September 2003 11:44pm
Dru wrote:
> What do you mean, you have a ghost in your room? You just can't say something like that and
> then tell me you have to go down to dinner! What if I never hear from you again? What if the
> ghost gets you? Who will have sympathy cramps for me then?
Calm down, panicked one. I'm OK. The ghost doesn't seem to be interested in anything but my undies. Which is creepy enough, let me tell you! The thought of spectral hands fondling my bras gives me the willies.
Here's what happened—we arrived two days ago. Since Bess was allowed—unfairly (what makes it all right for her to get to do things just because she's eighteen?)—to tour England by herself for a whole week, I got the first dibs on the best bedroom. Brother and Mom took the Old People's room downstairs (so the Ancient One doesn't have to climb the stairs every night, and let me tell you, that's a blessing for those of us who like to sleep at night. Brother's knees sound like cannons going off when he climbs stairs. I'm working on Mom to get him a StairMaster for Christmas, heh heh heh). So there I was with pick of the prime rooms, and of course, being naturally cool and having exceptional taste, I chose the tower room. Now get this—the room is almost totally round! There's a turret or spire or whatever they call it overhead, but the room itself is round, with great window seats. Of course, the first thing I did was check the storage space under the window seats for dead bodies, severed limbs, pulsating hearts, etc., but they were empty.
Fine and dandy, say I, and I snaffle the room. Since appearance is everything, I unpacked right away and got my clothes put away in this big old hunk of woodpiece of furniture Brother says is a wardrobe (don't the English understand the necessity of a really big walk-in closet?), and tuck the undies and stuff away in a dresser. A side note: I can't believe Mom only let me bring two suitcases. How can I go out in public with only two suitcases full of clothes? I'd rather die than have anyone see me in those rags she made me bring. I'm going shopping just as soon as I find out where the nearest mall is.
Anyway, I go off and do family stuff and when I come back, my underwear is ALL OVER THE ROOM! It was soooo creepy! I, of course, did the only thing I could do. I screamed.
Brother cracked and popped his way up the stairs (which was really kind of nice of him considering how old he is), and charged into the room looking like a fifty-two-year-old deranged rhinoceros (—he he had a hair thing going on that looked just like a horn. I really need to have a talk with him about the benefits of mousse).
"What's wrong? Are you hurt? What happened?" he asked in between gasps for air.
I rolled my eyes. I mean—sheesh!stared pointedly at my undies lying all over the floor. "My underwear is all over the room!"
He looked around, the hair horn kind of quivering in an agitated sort of way. "Your underwear?"
There are times when I am positive that he was put on the earth just to work my nervesdoesn't speak the same language I do. "Underwear. As in, those things I wear under my clothes? Get it? Underwear?"
"I know what underwear is, Emily. And I can do without that smart tone."
Oh, right, this from the man who springs Vlad the Impaler trivia quizzes at the drop of a hat. "Whatever."
He ruffled back the horn o' hair and looked around the room again. "Why have you strewn your clothes around the room? I thought you were excited about having the tower room?"
Honestly, there is just no use talking to him. I don't know why I bother. "I didn't strew anything around, Old One. I put my things—pitiful and in need of immediate replacement—in the drawer, but when I got back, they were all over the floor. I just knew this house was haunted, and now I've got proof." I shook an underwire bra at him. "We've got ghosts. I just hope you're happy! God only knows what the ghost is going to do with my—"
Oops! Almost let the cat out of the bag there. Don't want him to find out about my erotic- massage kit.
"With your what?" Brother asked.
"My…um…" I had to think fast. You know how suspicious my father can be. "Um…my personal things. You know, women's things."
"Oh." He didn't look like he believed me. "Regardless of that, there are no such things as ghosts, Emily. You probably simply forgot to put your things away."
"Fwah! Even if I did forget, –and I didn't, because unlike some members of this family who are so ancient they know can recall what the Holy Grail looks like, I can remember things, so— but even if I did forget, I would not have thrown all my underwear around the room. Thus, therefore, and all that other stuff, either there's an axe-murdering maniac with an underwear fetish living in the basement who came up here while I was hooking up the computer downstairs, or this room is haunted."
"Emily—"
"I'd prefer a ghost to an axe murderer, thank you."
"You can always use another room if you don't like this one."
"But I do like it," I said, grabbing the rest of my things and stuffing them back into the drawer. "It's the only cool room in this whole nightmare of a house. You always say I have to make the best of this horrible a bad situation, and in this case, that means I get the cool room. It's only fair."
"Fine," he said, running his hand through his hair again. It only made the horn stand up even more. "If you're done having this morning's histrionics, I have work to do. The dean of the college I'll be working for is coming by in a few minutes. I trust you'll be available to greet him?"
What is it with parents having you meet all their cronies? It's not like they're interesting or anything.All they do is criticize your hair and ask you what you want to do when you grow up. I'm already grown up.! But never let it be said that I, Emily Williams, let an opportunity slip past me. "Let's make a deal," I said.
Brother groaned. "Not now, Emily—"
"The deal is this: I come down and be charming and pleasant to your stodgy old dean, and you take me to the nearest mall."
"I don't have time to drive you aboutaround. I've got to be ready for the start of term next week—and speaking of that, so do you. Don't you want to bone up before you start school?"
I shuddered. Well, you know my feelings about that whole school thing—it's going to be even more of a hell than my life already is. "Brother, I was in AP classes last year. That's Advanced Placement," I said, speaking slowly. You have to do that sometimes with the elderly. "That means I'm ahead of regular classes, so I'm sure I will have no problem with the school work here. Back to the subject of the mall—"I don't know anyone in England! I don't even know what they study here! What if they think I'm weird because I'm American? GAH! I figured I'd better change the subject. "About the mall—"
"Not today, sweetling," he said as he creaked and popped his way out of the room. I rolled my eyes at the "'sweetling."' He uses those medieval words on purpose. He thinks they're cute. Fathers! "Maybe your mother can take you. I'll expect you downstairs in fifteen minutes."
"I can't."
"Why?" he asked, pausing at the door.
I waved my hand at the wardrobe. "I don't have anything to wear. That's why I have to go to the mall."
"What you have on is fine. Downstairs in fifteen, missy, and none of your sulks, please."
I hate it when the parents pull that authority crap on me. Sulks—excuse me, I'm sixteen! I don't sulk! I have never sulked! I don't even know how to sulk!
I thought about ignoring the order all together, but figured it might peeve off Mom if I did, which would lessen the chance of getting her to drive me to the nearest mall. Besides, it wasn't like this dean person was anyone important. It didn't matter what I wore. Right?
A few minutes later, there I was, the picture of everything fabulous, sitting in the room Brother calls the library, but which really looks (and smells) like a mouse's playroom—it's full of a bunch of boring old books, not even the good kind like that Victorian erotica book I found (you remember, the one with all the "'manly pillars of alabaster"'), ). Tthis stuff is sermons and other deadly things like that—and Brother brings in this old guy who's the head of the college or something. I start to stand up to shake his hand, when this totally fabulous hottie comes in behind the dean. Girl, I'm telling you, I must have swallowed back gallons of slobber!
So, I'm standing there and Brother does the introduction thing, and I find out that this hottie is named Aidan, and he's the dean's son, and I'm thinking that this is it, I've met the perfect man. He's all blonde and hunkalicious and has dark grey gray eyes, and I swear to you, he's got a moustache! A MOUSTACHE!
Oh, poop, I have to go. Mom insists I go with her to the grocery store, and since we made a deal (more about that later), I have to go. I'll e-mail you as soon as I'm back. You need to hear about Aidan and why I almost committed Brother-acide.
Hugs and kisses,
~Em