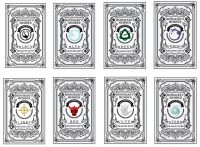 Because a book due in nine days means I can't keep up with shop orders for my dragon septs/tribe traveller's notebooks, I've recreated them with images I can distribute digitally, 

whipped them together into kits, and slapped them up into my Etsy shop. So if you've wanted a Green Dragon Sept TN but didn't want to wait for me to make it and ship it, now you can download a printable version, and make your own!
Each sept is available individually, or you can buy the complete sept/tribe set and get ALL the covers. Print them out, and lay them all over yourself! Paper your walls with them! Be like Bree and hand them out to dishy guys while making encouraging comments about their tails (OK, maybe don't do that because it's sexual harassment, but you can THINK encouraging comments).