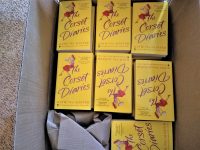 They're baaaaaaack. In a limited quantity, and I'm not sure if I will be able to get more (my bookstore connection said the distributor couldn't fill the original order I wanted, so I ended up with 50 of the little buggers).
Also, you guys have been shopping! There are a couple of books that I restocked yesterday that are almost sold out, so I'm putting in another order.
Here are the books that are either sold out, or very close to selling out, and for which I've placed an order, so they should be restocked in a couple of weeks:
Blow Me Down
The Vampire Always Rises
Me and My Shadow
Ghost of a Chance
Crouching Vampire, Hidden Fang (this should be here tomorrow)
Up in Smoke
Dragonblight
Confessions of a Vampire's Girlfriend
A Midsummer Night's Romp
The Art of Stealing Time
and Dragon Unbound.
I'm going to get a new cover for Hard Day's Knight, and once I do that, I'll get some of those in stock, as well.