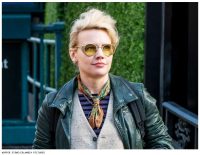 Once a month I hope to do a shout-out to a secondary character. This month, I've chosen the most recent of sidekicks, MacKenzie Fitzwilliam from Enthralled.
I'll be honest with you–Mac was born out of my love for Kate McKinnon, especially as seen in her role in the female version of Ghostbusters. Her mad scientist so delighted me that I knew I had to blight Jenna with a character that reminded me of McKinnon, a woman who was wholly supportive, but who lived for her science. And was also a bit heedless…and adventurous…and pretty much completely without boundaries.
Mac delighted me from the very start, since I could imbue her with all the wackiness that balanced out Jenna's angst and Keeley's darkness. The fact that she ended up with a small herd of devoted sexual partners never once surprised me, nor did the fact that she fully expected to go wherever Jenna went with Keeley. For that matter, it didn't strike Jenna as odd that Mac would accompany them to their new home. Only Keeley had a few minutes wondering why he ended up with a Beloved who wasn't a Beloved, her eccentric and sometimes dangerous sidekick, and a small harem of devoted followers, but he soon figured out that where Jenna went, there wenteth Mac.
What do you think about main protagonists having sidekicks? Do you dive fully into those relationships, or do you give them a firm side eye?