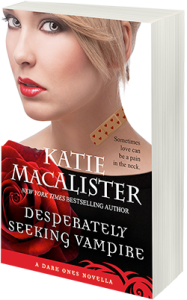 I think, based on all the feedback, I'm going to release both
DESPERATELY SEEKING VAMPIRE
(out August 9th) *and*
YOU SLEIGH ME
(out in October) as individual print books, but I will also make a print "duet" version in October with both novellas.
This will let people who want separate books for their vampire/dragon collections to have them, and folks who want to buy just one book with both stories have that, as well.
So. If you want the print version of DESPERATELY, you can either pick up the print copy on Tuesday, knowing it's a smaller book, or wait until October to grab the duet version with SLEIGH ME.
And yes, I'm hoping to have audio versions made of both books. I just need to send them to the audio publisher and see if they want to do them.
Something fun I'm thinking about for the release of YOU SLEIGH ME are very, very limited special edition book boxes with both print (most likely an exclusive hardcover) and e-book copies, as well as a bunch of related items. Think stickers, noms, tchotchkes, etc.
If I like the book box experience, I may offer it a couple of times a year on special edition books. This would NOT be a subscription based event, and would be EXTREMELY limited in number. Like, 25 book boxes available.
Click on the
CONTACT
link at the top of the menu bar, and let me know if that's something you'd be interested in!